Viết bởi Administrator
Thứ tư, 15 Tháng 3 2017 09:18
Hội nghị Cảm biến hóa học khu vực Châu Á lần thứ 12
Kính gửi các Đồng nghiệp,
Viện ITIMS tổ chức Hội nghị Cảm biến hóa học khu vực Châu Á lần thứ 12 (the 12th Asian Conference on Chemical Sensors - ACCS 2017) vào ngày 12-15 tháng 11 năm 2017 tại Khách sạn Pan Pacific Hotel Hanoi.
Cũng trong hội nghị này, Viện ITIMS sẽ tổ chức một Symposium về Advanced Materials and Nanotechnology nhằm kỷ niệm 25 năm ngày thành lập Viện ITIMS. Đây là cơ hội để các đồng nghiệp, bạn bè, cựu học viên và các đối tác thể hiện tình cảm của mình với ITIMS.

Hội nghị bao gồm các chủ đề:
A – Sensor Fundamentals

A1 – Fundamentals: Principle & Methodology

A2 – Sensing Mechanism: Semiconductor & Nanotechnology

A3 – New Sensing & Functionalized Materials
B – Sensor System & Devices

B1 – Chemical Sensors

B2 – Electrochemical Sensor

B3 – Optical Sensor

B4 – Biochemical Sensors

B5 – Bio Inspired Sensing

B6 –Hybrid Sensor Devices

B7 –Sensor packaging
C- Application & Technology

C1 – E-Nose: Devices and Application

C2 – Sensing for Health, Safety and Security

C3 – Chemical Sensing for Environmental

C4 – Wireless Sensor Network & IoT

C5 –Flexible and Stretchable Sensors

C6 – Mobile Olfaction

C7 –Chemical Sensors for Agriculture and the Food Industry
D – Chemometrics, Modelling & Evaluation

D1 – Sensor Arrays

D2 – Data Analysis & Chemometrics

D3 – Sensor Fusion

D4 – Modelling and Evaluation
E – Advanced Materials and Nanotechnology

(This symposium is dedicated to the 25th anniversary of the International Training Institute for Materials Science (ITIMS). We would like to invite all friends of ITIMS to participate in this symposium)

E1 –Magnetism, multiferroism, and topological insulators

E2 – Advanced materials and functional devices

E3 – Micro- and nanotechnology and applications

E4 – Photonics and semiconductor nanophysics
Ban tổ chức xin trân trong kính mời tất cả đồng nghiệp, bạn bè, cựu học viên,các đối tác, các nhà khoa học gửi bài và tham gia vào hội nghị.

Chi tiết về hội nghị có thể xem chi tiết tại Website: http://accs2017.org/

Trân trọng,

Thay mặt ban tổ chức,
GS.TS. Nguyễn Văn Hiếu
Lần cập nhật cuối ( Thứ tư, 15 Tháng 3 2017 10:15 )
---
Viết bởi Admin
Thứ tư, 22 Tháng 2 2017 11:15
Following the previous Asian Symposium on Advanced Materials (ASAM), we are organizing the 6th Asian Symposium on Advanced Materials: Chemistry, Physics & Biomedicine of Functional and Novel Materials (ASAM-6) on September 27-30, 2017 at Hoa Binh Hotel, Hanoi, Vietnam.
The previous symposiums were held at Vladivostok, Russia (organized by Professors Yury Shchipunov and Chang-Sik Ha), Shanghai, China (organized by Professors Dongyuan Zhao and Limin Wu), Fukuoka, Japan (organized by Professors Atsushi Takahara and Jian Ping Gong, Taipei, Taiwan (organized by Professor Toyoko Imae), and Busan, Korea (organized by Professor Chang-Sik Ha and Professor Yury Schchipunov).
This symposium is intended as a forum for interdisciplinary discussion between scientists and engineers from Asian universities, research institutions and companies, who are investigating or concerned themselves in advanced materials. Such materials can serve for improving and developing chemical engineering, nanotechnology, microelectronics, optics, environmental science and biomedical technologies, they make human life healthy and comfortable in quality.
In view of your research, development expertise, and valuable scientific contributions, on behalf of the ASAM-6 Organization Committee, I would like to invite you and your colleagues to write the paper and attend the ASAM-6. The symposium will be attended by world class experts in fields of the advanced materials. We would encourage participants to meet and collaborate in research. The First Circular of the ASAM-6 attached here that provides you more information in detail.
---
Viết bởi Admin
Thứ năm, 06 Tháng 10 2016 21:57
Hội nghị Quốc tế lần thứ ba về Vật liệu Tiên tiến và Công nghệ Nano (The third International Conference on Advanced Materials and Nanotechnology - ICAMN 2016) do viện ITIMS tổ chức từ ngày 02/10/2016 đến 05/10/2016 đã diễn ra thành công tốt đẹp, một sự kiện ý nghĩa để chào mừng lễ kỷ niệm 60 năm Thành lập Trường Đại học Bách Khoa Hà Nội.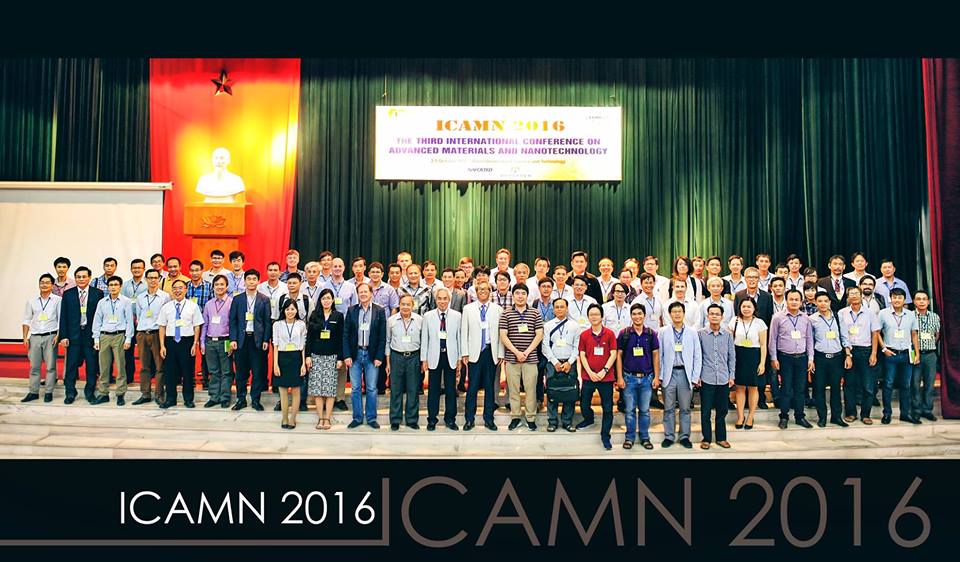 Hội nghị thu hút được đông đảo các nhà khoa học quốc tế và trong nước uy tín tham gia với gần 200 đại biểu đến từ các nước Pháp, Ý, Hà Lan, Nhật Bản, Hàn Quốc, Trung Quốc, Đài Loan, Thái Lan và Việt Nam. Hội nghị có trên 50 bài báo cáo Oral và 100 bài trình bày Poster. Các báo cáo Oral được chia thành 8 Sessions với các chủ đề:
Lần cập nhật cuối ( Thứ năm, 06 Tháng 10 2016 23:55 )
Đọc thêm...
---
Viết bởi Admin
Thứ hai, 04 Tháng 7 2016 13:14
The yearly, unique in Vietnam, international practical summer course "How to make a photodiode" was given again at the Institute ITIMS (International Trainings Institute Materials and Science).

For this practical summer course the well-equipped ITIMS clean room facility was used.

Under supervision of two IC technology specialist from ITIMS, (Nguyen Van Toan, Nguyen Van Duy) and one specialist in IC technology from the MESA+ institute of the Netherlands (Tom Aarnink), the students got a hands-on training in IC technology. By a smart mask-set design, not only diodes but also p-channel MOSFET transistors were made and explained.

The photodiode is an interesting device because it allows the study of some elementary characteristics of semiconductor materials. Moreover, the processing is not too complicated for a practical assignment and it is very instructive since it closely resembles the processing of IC's.

The processing:

The photodiode consist of p+n junctions realized on a 4 inch n-type silicon wafer. On top of this wafer a layer of SiO2 with a high boron concentration has been deposited.

After photo lithography steps and boron oxide etching, the wafer is heated up and the boron will diffuse into the silicon and thus create a p-type region.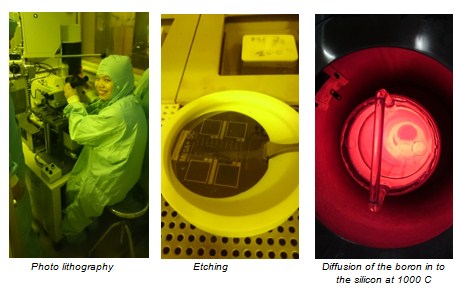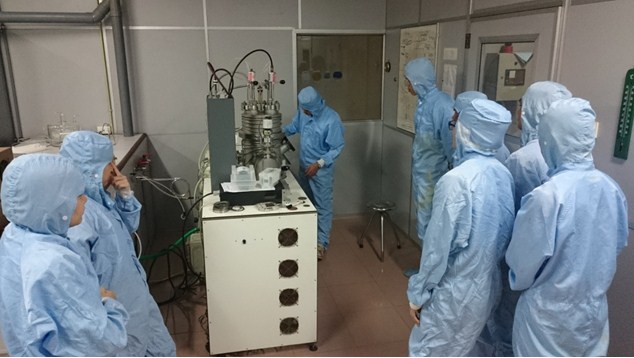 Metallization with aluminum in the High Vacuum sputter machine.

Before the electrical measurements can start, aluminum must be sputtered onto the wafer in a so called High Vacuum sputter machine. After the metallization the photodiodes and transistors are finished and the measuring of the I-V curves can start.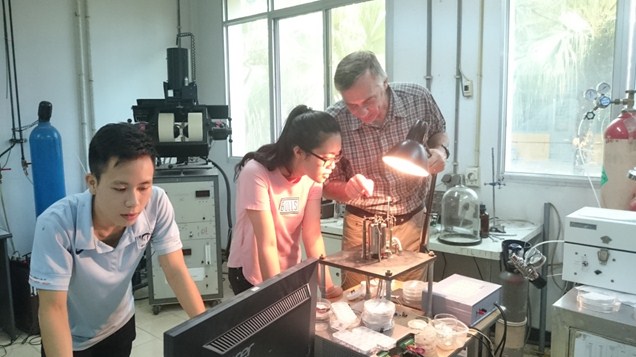 The electrical properties of the photodiode are measured.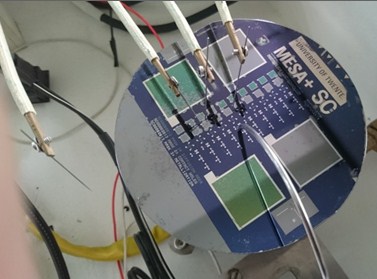 The photodiode on a 4 inch silicon wafer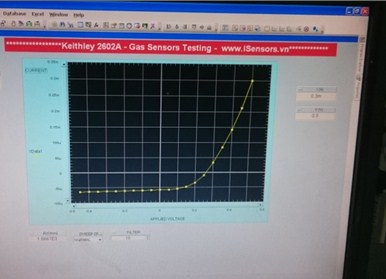 The electrical properties of the photodiode


During summer course many topics related to the modern IC technology were explained.



All 12 students successfully passed this course and received a certificate of participation.


This practical course is supported by:


Lần cập nhật cuối ( Thứ tư, 06 Tháng 7 2016 15:25 )
---
Viết bởi Admin
Thứ hai, 23 Tháng 5 2016 10:28
The third International Conference on Advanced Materials and Nanotechnology (ICAMN 2016) will be held from October 2nd to 5th, 2016 in Hanoi. As an event being sponsored by Vietnam National Foundation for Science and Technology (NAFOSTED) on the 60th anniversary of Hanoi University of Science and Technology, the conference will feature with broad topics on new materials and devices with a broad range of applications, such as electronics, energy storage and conversion, environmental protection, medicine and biomaterials.

Conference topics:
Magnetism, multiferroism, topological insulators and superconductors
Advanced materials and functional devices
Micro- and nanotechnology and applications
Photonics and semiconductor nanophysics
For more information, please visit ITIMS's website:
Lần cập nhật cuối ( Thứ hai, 23 Tháng 5 2016 10:39 )
---
<<

Bắt đầu

<

Lùi

1

2 3 4 5 6 7 8 9 10 Tiếp theo > Cuối >>


Trang 1 của 13