Viết bởi Admin
Thứ hai, 04 Tháng 7 2016 15:20
The Scuola Normale Superiore (SNS) offers fully funded PhD
Programmes in a variety of fields including humanities, social sciences, natural sciences, and engineering. Students of any nationality who hold or expect to obtain their master's degree by 31 October 2016 may apply for the PhD courses.
Successful applicants will receive full financial support (tuition fees, monthly allowance) for the entire duration of the course: 3 years (4 years in the neuroscience and biophysical fields).
Two calls per year.
Next deadline: 30 August 2016
Details here: http://phd.sns.it/en/call-2016-2017/
---
Viết bởi Admin
Thứ sáu, 28 Tháng 8 2015 09:36
Chương trình học bổng Tiến sĩ Nhật Bản 2015
Xem chi tiết thông tin chương trình học bổng Tiến sĩ của Nhật Bản tại đây: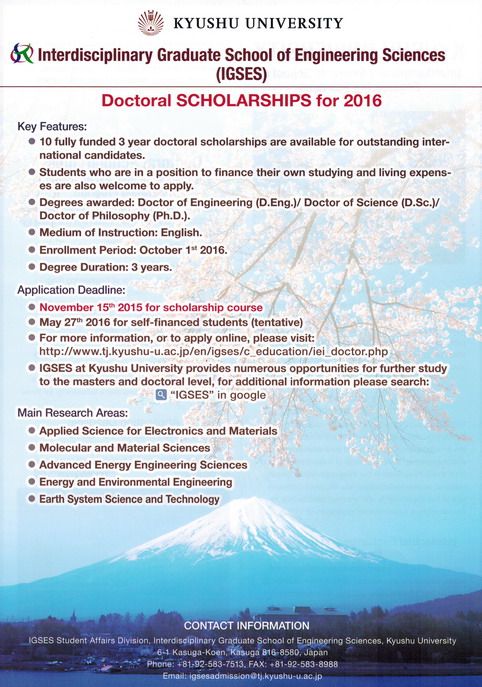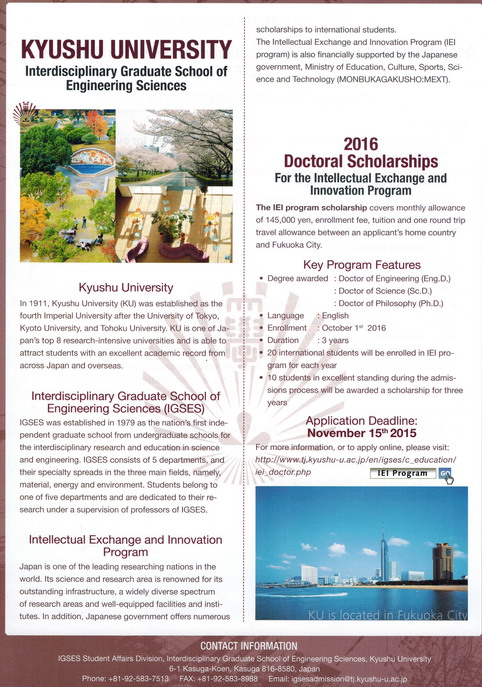 Hoặc qua website sau: http://www.tj.kyushu-u.ac.jp/en/igses/c_education/iei_doctor.php
Lần cập nhật cuối ( Thứ sáu, 28 Tháng 8 2015 10:06 )
---
Viết bởi Admin
Thứ ba, 15 Tháng 7 2014 10:48
Internship in Japan
An internship post is available for a young scientist/engineer who is interested in image sensors and their applications.

Term: Six months or one year from September or October 2014

Educational Background of Applicants: With MS or an equivalent degree in engineering or science; English for communication

Venue: Ritsumeikan University and/or Kinki University in Japan
Main topic:
Design of an ultra-high-speed image sensor toward 1 Gfps

Additional Topic (1): Experiments with ultra-high-speed video cameras

Additional Topic (2): Applications of image sensors in Robotics

(Time allocation will be discussed with the applicant)
Supervisors:
Main topic: Professor T. Goji Etoh, Ritsumeikan and Kinki Universities

Additional Topic (1): Professor Kohsei Takehara, Kinki Iniversity

Additional Topic (2): Professor Kazuhiro Shimonomura, Ritsumeikan University

Financial support:

200,000 JPYen/month including tax (about 20%)

Financial Source:

A Japanese national project supported by JST (Japanese Science and Technology Agency)
Contact:
Prof. T. Goji Etoh
Email: Địa chỉ email này đã được bảo vệ từ spam bots, bạn cần kích hoạt Javascript để xem nó.
Tel: 81-90-1901-4429
Lần cập nhật cuối ( Thứ ba, 15 Tháng 7 2014 10:53 )
---
Viết bởi Admin
Thứ hai, 25 Tháng 11 2013 13:46
Application Requirements
Degree requirements
Applicants who wish to pursue a graduate degree in the Physics Department at Virginia Tech must hold the equivalent of a U.S. bachelor's degree (B.A. or B.S.) from an institution of recognized standing.
Letters of Recommendation
Three letters of recommendation should be submitted, preferably through the online application system, via email directly from your references to minimize loss and delay (see How to apply).
Personal Statement
During the online application process you need to write a short essay about your personal goals and your reasons for choosing to come to graduate school.
Required Tests
For international students we require the TOEFL. The graduate school's minimum TOEFL score is 550 (paper), 213 (computer) or 80 (internet-based test). (see the Graduate School's application website for more information)
GPA requirements/Transcripts
The Graduate School requires your complete academic record (transcripts from all colleges you have attended). The minimum GPA for admission is 3.0. The Graduate School calculates your GPA based on your last 60 undergraduate credit hours. Exceptions may be made for students who have also earned significantly higher GPAs in graduate programs (minimum graduate GPA of 3.4, minimum 15 credit hours).
International students
The following guidelines apply to undergraduate programs outside the U.S.:
India, Pakistan, Bangladesh, Nepal: bachelor's degree in engineering, master's degree in all other fields
Students who are unsure of the U.S. equivalency of their degree(s) should consult a reputable credential evaluation service. ALL applicants for admission to the graduate program are required to take the GRE general and Physics tests. International students whose first language is not English are also required to take the TOEFL test.
Lần cập nhật cuối ( Thứ hai, 25 Tháng 11 2013 13:54 )
---
Viết bởi Admin
Thứ ba, 07 Tháng 2 2012 03:41
The International Scholarship Programme of the ENS Cachan is aimed at high level international students who are currently studying or have studied and obtained their most recent qualification outside of France.
The grant amounts to 1000 euros/month, for a duration of stay of 6 to 12 months.

In order to participate in the programme :
Step 1 : Please read attentively the ENS Cachan International Scholarship Regulations

Step 2 : Fill in the application form
The application forms should be filled in very carefully. We advise you to read first all the pages of the application file and prepare the information you will need

Step 3 : Send your application by e-mail at boursi12[AT]ens-cachan.fr and the paper application at



Ecole normale supérieure de Cachan
Relations internationales
61, Avenue du Président Wilson
94235 Cachan cedex - France


In case you need help, please write an e-mail to boursi12 [AT] ens-cachan.fr



Application deadline :

15 March 2012










Download the program's

regulations


Download the

application file

Source: http://www.ens-cachan.fr/version-anglaise/profiles/coming-to-the-ens-cachan-students/ens-cachan-international-scholarship-programme-2012-2013-138047.kjsp?RH=ACCUEIL_GB
Lần cập nhật cuối ( Thứ ba, 07 Tháng 2 2012 04:20 )
---
Viết bởi Admin
Thứ năm, 13 Tháng 1 2011 17:49
The Fuel Cells and Solid State Chemistry Division at Risø DTU is seeking a PhD student to develop and process new types of oxide thermoelectric materials for use in conversion of heat into electricity.

Thermoelectric power conversion is a promising technology for waste heat recovery in a broad variety of applications, e.g. transportation, building and industry. A thermoelectric device works by converting a certain temperature difference into an electric potential to generate power.

You will be part of a large project which aim to develop and demonstrate high-temperature efficient thermoelectric oxide modules integrated in a converter system.

This will take place at the international front line in collaboration between Risø DTU and four leading laboratories in Denmark, Japan and the US, while industry participation ensures strong links to both technology providers and end-users.

The project
A major challenge in thermoelectric materials development is to manipulate the structure and physical properties in order to improve thermoelectric power, electrical conductivity and simultaneously reduce thermal conductivity. The project is focussed on the development of novel thermoelectric oxide materials (especially p-type), characterisation techniques of thermoelectric materials and the integration of these materials in a thermoelectric device for high temperature applications.

Qualifications
Master's degree in chemistry, physics, materials science or similar
Knowledge in synthesis of inorganic materials preferably oxides
Prior knowledge in the area of thermoelectricity is beneficial
Experience with experimental methods for materials processing and characterization
Ability to work independently, to plan and carry out complicated tasks, and to be a part of a large, dynamical group
Good communication skills in English, both written and spoken

We offer
We offer an exciting and challenging job in an international environment. with good possibilities for professional and personal growth. Risø DTU is a family friendly organisation with flexible working hours.

Approval and enrolment
The scholarships for the PhD degree are subject to academic approval, and the candidates will be enrolled in one of the general degree programmes of DTU. For information about the general requirements for enrolment and the general planning of the scholarship studies, please see the DTU PhD Guide.

Salary and appointment terms
The salary and appointment terms are consistent with the current rules for PhD degree students. The period of employment is 3 years.

Application
We must have your online application by 15 February 2011. Please open the link "apply for this job online", fill in the application form and attach the following documents;

a) A letter motivating the application (cover letter)
b) Curriculum vitae
c) Grade transcripts and BSc/MSc diploma
d) Conversion of grade averages to Danish grades (see guidelines and excel spreadsheet for the conversion

here

).

Candidates may apply prior to obtaining their master's degree, but cannot begin before having received it.

All interested candidates irrespective of age, gender, race, inability, religion or ethnic background are encouraged to apply.

Further information
Please contact Nini Pryds, +45 46 77 57 52 or Ngo Van Nong, +45 51 42 30 23 for further information.

Additional information about Risø DTU and the Fuel Cells and Solid State Chemistry Division can be found on risoe.dtu.dk.

Src: DTU

---
<<

Bắt đầu

<

Lùi

1

2 3 Tiếp theo > Cuối >>


Trang 1 của 3