Dear colleagues,

We would like to encourage you to submit your abstract to the Symposium Q: "Synchrotron Radiation and Atomic Layer Deposition for Advanced Materials" to be held from 18th until 21st of September 2017 in Warsaw (Poland) during the E-MRS Fall Meeting 2017.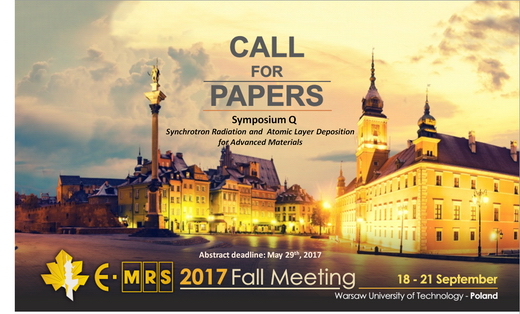 Abstract deadline is May 29th, 2017.

Please visit the symposium website at http://www.european-mrs.com/sy nchrotron-radiation-and-atomic -layer-deposition-advanced- materials-emrs for further information.

The Organizers

Confirmed invited speakers:
Dr. J. Dendooven (Ghent University, Belgium), ALD to grow metals - Pt

Dr. S. Elliott (Tyndall National Institute, Ireland), Simulating Atomic Layer Deposition

Dr. D. Fong (Argonne National Laboratories, USA), Applying in-situ X-ray scattering and fluorescence to monitor the ALD growth of materials

Prof. E. Kessels (TU Eindhoven, The Netherlands), Application of ALD in solar cells

Prof. J. L. MacManus-Driscoll (University of Cambridge, UK), Atmospheric pressure spatial atomic layer deposition of thin films: Reactors, doping, and devices

Prof. M. Ritala (University of Helsinki, Finland), ALD of thin films for microelectronics

Dr. T. Schenk (Namlab, Germany), ALD for memory devices

Dr. J. Sprenger (University of Colorado at Boulder, USA) Low temperature Electron Enhanced ALD

Dr. M. Tallarida (ALBA, Spain), Characterization of ALD processes and materials using synchrotron
Scientific committee members:
Dr. Manh-Hung Chu (Vietnam)

Dr. Chittaranjan Das (Germany)

Dr. Catherine Dubourdieu (Germany)

Dr. Karol Froehlich (Slovakei)

Dr. Kamil Kosiel (Poland)

Dr. Alessio Lamperti (Italy)

Dr. Alex Martinson (USA)

Dr. Uwe Schröder (Germany)
Publication:
Manuscripts submitted to the Symposium Q, after peer-review process, will be published in the Synchrotron Radiation and Atomic Layer Deposition for Advanced Materials Special Issue of the Journal of Vacuum Science & Technology A.
Manuscript submission deadline is November 15th, 2017.

CONTACT

Dr. Małgorzata Kot
Academic assistant
BTU Cottbus-Senftenberg
Konrad-Wachsmann-Allee 17
03046 Cottbus
Germany
Office: Panta Rhei, Room 236
Phone: +49 (0)355-69-2972
Fax: +49 (0)355-69-3931
E-Mail: This e-mail address is being protected from spambots. You need JavaScript enabled to view it